Repair, Maintenance and Troubleshooting of Existing Systems
SPi has extensive experience in trouble shooting existing commercial and industrial electrical and instrumentation and computer systems.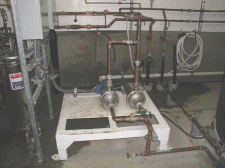 We can work on MS Windows, Unix and Linux networks, most Programmable Logic Controllers (PLC) or other computer based systems.
SPi engineers and technicians can deal with computerized monitoring and instrumentation equipment. They also work on conventional relay or other older or simpler control or instrumentation systems.
SPi engineers have an extensive background in motor control and material handling for industrial conveyors, cranes, and other motion controlled systems. Our experienced engineers can work with motor systems from fractional horse power to those of several hundred horse power. SPi can help you upgrade your systems with the latest Variable Frequency Drives or other motor controllers.
SPi will also work with clients on improving efficiencies of existing systems. Our experience with many different hardware and software system vendors gives us the ability to help find the most economical solution to your problems.
Copyright © 2003-2009 Smarter Process Inc.. All Rights Reserved. webmaster@smarteprocess.com | Important Notices